AiR Collection
Selasi Top in Orange

Regular price

from

GHS449.00

Sale price

from

GHS449.00

Selasi top in Grey

Regular price

from

GHS449.00

Sale price

from

GHS449.00
Behind our collections
UnWind
This Collection is so dear to my heart because for as long as I can remember, grinding has been my thing. Nonstop working, 24/7, all year round. All I did was work because I had a Vision and I needed to attain it. I went so hard I never appreciated myself, the little wins, or even allow myself time to chill and regroup. Life became depressing and I was no longer sure what I was living for. Things changed somewhere at the ending of last year when I discovered there's more to life than work and I decided to live more, and in the moment. Don't get me wrong, I still have a long way to go but it feels great to slow down and breathe.

I'm so glad to have partnered with Sojourn Cabins for this collection because they truly understand the need to take a breather and they can relate to the theme of this collection. They provide a beautiful haven where you can escape the hustle and bustle of life and work and just UnWind. It's not just a location, it's an experience . From bon fires, to massages, to chef cooked meals. You even get to visit the fort close by, a garden as well as. I'm also so excited to announce that anyone who makes an order of a minimum GH¢1,000 gets a GH¢565 discount for any cabin booking at the Sojourn Cabins.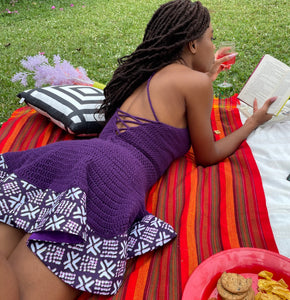 Ayeeko
Ayeeko in the Ghanaian local dialect Ga means 'Well Done.'
Life hasn't been easy for us Ghanaians , Africans and even black peole in general. But we've survived. We're alive and well and to that we say Ayeeko- Well done.
Ayeeko is a mixture of crochet and African print. The perfect outfits for December enjoyment.
Each outfit is named after something no one or hardship can take away from us. From our sense of humour, to our freedom and to our happiness
Akwaaba (Welcome)
Akwaaba in the local dialect twi means welcome. In the Akwaaba collection, we welcome home everyone coming back home to Africa to have a good time and contribute to making Ghana a tourist destination.
Pieces in this collection were named after famous must visit places in Ghana like Sajuna, Aburi, Labadi and many more.
The outfits in this collection are perfect for a hot day in Ghana or summer in another country.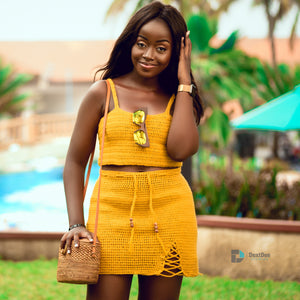 BOUGIE
This was a collection for Bougie girls- Bold, Original, Unique, Gorgeous, Independent, Educated girl .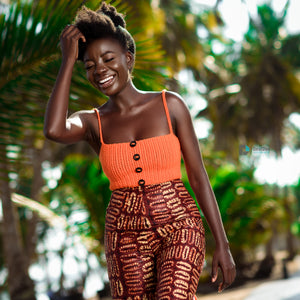 Collection AIR (Africa is Ready)
AiR- Africa is ready.
Our first ever Collection- A mix of crochet and African print to represent our rich African roots.
Testimonials
Got my package yesterday. I haven't tried it on yet but I'm absolutely in love with it. Really neat work with attention paid to details. Thanks a lot
OMG! I've received my package. Damn Damn Damn So Beautiful. I love CroChel
I've received my order. Everyone in my office loves it and I love it more. You're really talented , your customer service is on point. Thank you so much